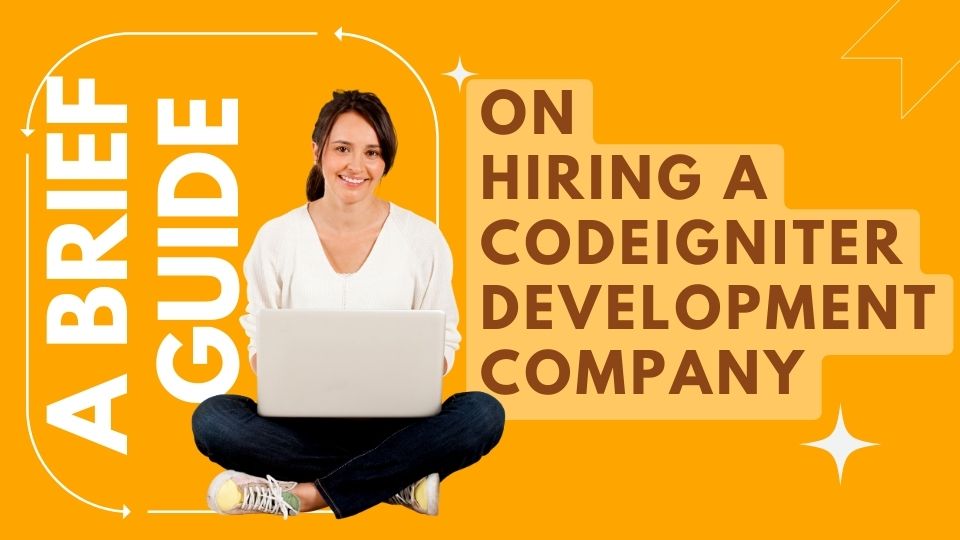 A Brief Guide on Hiring a CodeIgniter Development Company
In our last blog, we discussed in detail various things related to the CodeIgniter framework. We discussed the features of the CodeIgniter web framework, its architecture, and the advantages of integrating it into a business process.
When we talk about a PHP framework that is highly advanced and lightweight, CodeIgniter web framework instantly hit our minds. This framework has always been able to surpass its rivals due to its outstanding performance. It makes a significant contribution to the creation of innovative, persuasive, customizable, dynamic, and diverse websites.
But merely knowing different aspects of the CodeIgniter web framework won't do any good to the company. One should also know how to hire a CodeIgniter development company. Because joining hands with the right one can help the company reach new heights in no time.
In this blog, we are going to tell you about the advantages of hiring a CodeIgniter development company and the things to consider when hiring one.
The Advantages of Hiring a CodeIgniter Web Development Company
CodeIgniter web framework is a flexible PHP platform. With the help of a straightforward and elegant toolkit, CodeIgniter web developers can build full-featured web applications. A CodeIgniter web development firm can save you 40% on software development while keeping your whole process hassle-free.
Let's look at some of the benefits that you can get while working with a PHP CodeIgniter development company:
Outsourcing CodeIgniter services can let you do the task at Affordable rates:
Creating your own internal PHP CodeIgniter development team can be challenging and even expensive. It can cost a lot of money and time to find the right CodeIgniter developer. In fact, hiring a whole team just for one project is not a wise thing to do. And ultimately these costs get passed on to the customers.
That's why outsourcing PHP CodeIgniter development services is always thought of as the most sensible and cost-effective choice for any business.
Comparatively speaking, it is a more affordable choice than bringing in a team from within. Additionally, you will have the chance to meet seasoned developers who are well-versed in CodeIgniter web development methods and tools.
Resource optimization can be accomplished through outsourcing:
It is not advisable to delegate each one of your developers with every work you have in hand. Before making any decision, consider what is more important and which tasks require the most time and effort. Most of the time, allocating your top talent to IT support is neither efficient nor cost-effective. It's possible that developers at your company are occupied with tasks that directly advance your corporate objectives. Let them concentrate on your main business endeavors.
Rather, focus on outsourcing from a reliable and experienced company that offers flexible options and a dedicated team to get the work started right away. This way you will not have to waste your time and money on training the new employees and getting resources for them.
With Citta Solutions, you can outsource with confidence. The developers will be of the highest global quality, and everything will run smoothly and on time.
Outsourcing from a reliable agency will assure website security:
Outsourcing from a top and trustworthy company like Citta guarantees the website produced is flawless and high-quality. This way your website will be fully functional and free of bugs and errors.
A website free of bugs will ensure a smooth user experience and give users convenience when browsing the website. As a result, website visitors will stay on the site longer, increasing website traffic.
Error-free websites significantly increase your company's online visibility and establish its legitimacy.
The CodeIgniter web development firm keeps up with the newest tools and technologies:
Every year, the technology stack changes dramatically, and hiring and firing accordingly is not a wise decision to take. That's why hiring a PHP CodeIgniter development company is thought of as the best strategy.
They not only guarantee to meet the predetermined project deadline but also keep up with new tools and technologies.
Outsourcing gives you high flexibility:
By working with a CodeIgniter web development company, you can get the benefit of having a remote team. You won't have to ask for project updates or keep track of their progress constantly.
The developer's location won't always be the same as yours. You will nevertheless complete your project by the deadline.
In addition, an experienced PHP CodeIgniter development company will always keep you updated about the project. They will submit a report on technologies being used and challenges occurring during the website work.
Tips to Follow While Hire a CodeIgniter Web Development Company
Before choosing a CodeIgniter development company, you should take into account a number of factors. Here are some of the most important factors to take into account when hiring the best talent:
Take a look at their years of experience:
A CodeIgniter development company cannot be hired based solely on the extensive work history of its developers. Employing a developer with experience in your industry is equally important.
Additionally, you can look through their portfolio to get a quick idea of how skilled they are at creating websites or web applications. To measure the level of talent of the developers, look at the website's functionality and responsiveness.
Always go with a CodeIgniter development company that has a lot of experience using cutting-edge tools and technologies.
Check their developer's technical skills:
It is crucial to confirm that the developers are up to date with contemporary technologies before hiring a CodeIgniter development company. For smooth development, they should be well-versed in CSS3, HTML5, jQuery, MySQL, Javascript, database design, debugging abilities, AJAX, and knowledge of the MVC framework.
The website's code should be managed by the developer with absolute precision. Any CodeIgniter developer must possess the ability to keep up with the rapid changes in technology.
Additionally, the hired CodeIgniter development company should be able to handle security breaches and find solutions quickly. Find out from them how they handled security-related issues in the past.
Make sure the hired CodeIgniter development company will maintain confidentiality:
You must undoubtedly defend your distinctive business offerings from rivals. As a result, your business should always strive to protect the privacy of your web development project.
Inquire about their willingness to sign an NDA (Non-Disclosure Agreement) document before hiring a CodeIgniter development company. NDA will give you the peace of mind that your data is safe and that you can rely on the business.
Check the available certifications to cross-check their claims:
Certifications play a crucial role in proving the company's claims. When a CodeIgniter development company claims to be knowledgeable about the newest technology, always ask for official certifications.
It is essential for your project because you will benefit from the updated technology and become more reliable and effective.
Final Words:
We are therefore only a click away from you if you're looking for temporary workers or a full-fledged product team that can successfully complete your project on schedule while working remotely.
Hiring our carefully screened CodeIgniter developers gives you the peace of mind that they will write high-quality code, apply their knowledge of the software development life cycle, work well with key stakeholders, and assist the production team.
BookMyTalent follows approved coding conventions and stringent guidelines to implement excellent web experiences as required by your business needs. Through our comprehensive CodeIgniter development services, our in-house CodeIgniter developers are skilled at creating customized websites, customized software, and customized APIs.